NEW
battery-operated crawler system
•
The complete system is fully waterproof
•
Reversing Camera as standard
•
Extremely robust - crawler machined from solid brass and SS
•
WiFi connectivity for immediate reporting to customer
•
Suitable for pipe sizes 4" to 12" and above
•
300 metres of 4mm cable supplied as standard
•
Inclinometer and auto-steering to avoid turn-over
•
Complete system weighs only 26Kg
•
Locking Quick-Release wheel sets
safety first
Our systems are all battery operated so there are no
dangerous voltages or generators required. We use the latest
battery technology to provide a full days work from two
crawler batteries and a single charge of the control unit
battery.
why battery power?
On most crawler systems up to 90% of the power is lost in the
main cable. The cable can be increased in size with more
copper to reduce the loss - but then the crawler needs to be
bigger and heavier. In addition the cable voltage is often at
lethal levels.
We have produced a crawler that carries its own power
source meaning that the main cable does not conduct any
power allowing it to be much lighter. The composition of our
cable is mainly Kevlar and the three small conductors only
carry signals at safe voltages below 5V.
video introduction
wifi connectivity
introduction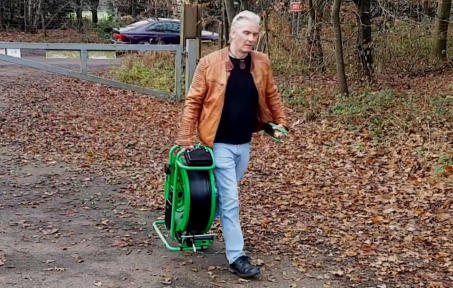 your pushrod system can
be upgraded to a
crawler - or start from
scratch
quick-release locking
wheel sets for 4"
(100mm) and upwards


reversing camera as
standard with rear
lighting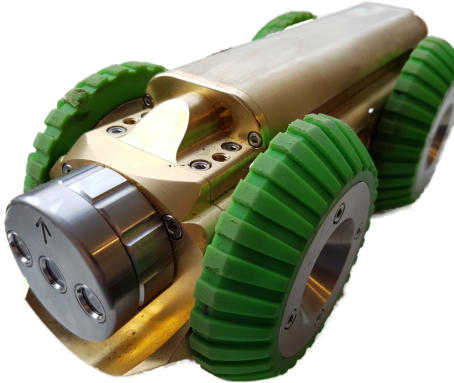 forward-view or pan &
tilt camera options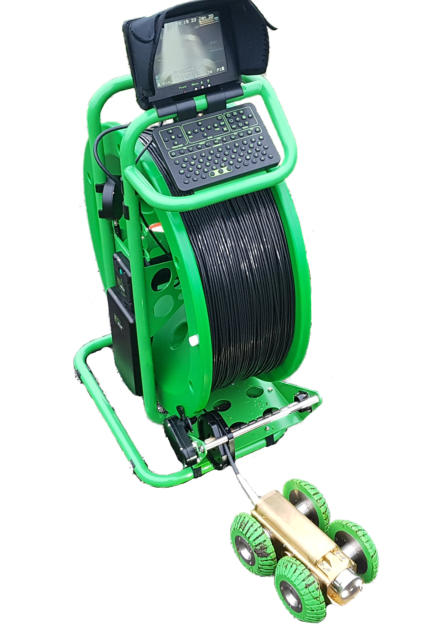 Welcome to Troglotech's Crawler System
- The complete system
is battery-operated and this means that the system is
lightweight and highly portable - and very economic to use. As
usual with Troglotech products, the system is highly robust with
the crawler being machined from solid brass and stainless steel.
With a range of quick-release wheel sets (the wheel bolts are
locked into position for security) you can survey the full range
of pipe sizes from 4" (100mm). The crawler is steerable and has
a reversing camera and lights so that a survey can be performed
in either direction.
The batteries on the crawler are quick-release and can be
charged on-site or via a mains supply

upgrade your t804 pushrod system or complement
it with a crawler system?
We designed the crawler system to be compatible with our
T804 Pushrod System. The Display Unit, Keyboard, Frame and
Battery Pack can be used on either system. This gives a
number of options:
•
Covert your T804 pushrod system to a crawler system - low
cost route to a full crawler system
•
Complement your T804 pushrod system with a complete
crawler system
•
Retain the pushrod frame, coiler cage and rod of the
pushrod system and share the
Display Unit, Keyboard and Battery Pack between the two
systems